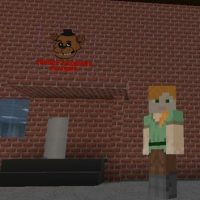 FNAF 3 Map for Minecraft PE
Version MCPE: 1.14.0 - 1.19.83
Download
Download FNAF 3 Map for Minecraft PE: a terrifying adventure in a world where creepy animatronics robots are waiting for the players around every corner of the map, and creepy sounds create the atmosphere of a real horror movie!
What is interesting in FNAF 3 Map for Minecraft PE?
FNAF is a popular computer horror game in which the player appears as a security guard who needs to last five nights in the most terrible pizzeria.
FNAF 3 Map allows you to go this way in Minecraft PE. An incredible world of creepy monsters and terrifying sounds accompanies everyone who wants to pass this test.
Storyline
Earlier, there was a fire in the pizzeria, so the paintings on the walls are stained, and in, general everything looks quite uncomfortable.
At the same time, tables are set in the dining room and there are all the attributes of a fun holiday.
But do not relax, because in this Five Nights at Freddy's Map for Minecraft PE, robots have become creepy, and dangers are waiting at every step.
Being in such a creepy place is very unpleasant, not to mention work, but nothing can be done and the player needs to last five nights. If the player succeeds in fulfilling this condition, an incredible reward awaits him!
Characters
The main characters are Chica, Bonnie, Freddy, Foxy. Maybe once they were cute little animals who entertained children on their holidays and sang cute songs.
Now everything has changed, at night they come to life and will try to attack the hero and even kill him.
But that's not all in the FNAF 3 map, nightmarish sounds create a real horror atmosphere in the world of Minecraft PE.
Phantoms
In addition to robots in Five Nights at Freddy's map, creepy phantoms are waiting for the player in this map for Minecraft PE.
They appear when the player lacks oxygen, suffocates, and has hallucinations. In order not to meet these creepy creatures, it is necessary to monitor oxygen.
How to download FNAF 3 map?

Tap the file and open it in Minecraft PE.

Can I use this map with my friends?

Yes, this map is suitable for a multiplayer game.

Can i use this map in the survival mod?

Yes, the map is suitable for the survival mode.
Download FNAF 3 for Minecraft PE