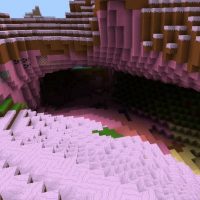 Kawaii Texture Pack for Minecraft PE
Version MCPE: 1.14.0 - 1.20.31
Download
Download Kawaii Texture Pack for Minecraft PE: discover a colorful world that is filled with bright colors and fun! Start right now!
 Kawaii Texture Pack for Minecraft PE
If you want to add emotions and bright colors to the usual gameplay, then Kawaii Texture Pack is exactly right. This world has bright colors and a cheerful mood. He will definitely not leave anyone indifferent.
This update for Minecraft PE will primarily appeal to all anime fans. The basis of many objects is pink, even water has acquired its shades.
Of course, the objects and objects in the game do not look realistic. But actually, that's the whole point. In this world, everything becomes very cute and cartoonish.
World
The word "Kawaii" translates from Japanese as "cute" and this modification confirms its name. Kawaii World takes the Minecraft PE player to a world of bright colors, where it seems nothing bad can happen.
Purple ponies walk around the field, flowers grow around. In this update, the developers have added all shades of pink.
Even the buttons in the game and the entire interface are painted in this color.
This update is suitable for players who want to completely change the graphics in the game. Here, even the trees don't have ordinary brown trunks, they are a cute purple color.
New Kawaii
Another update is called New Kawaii and also offers the player to immerse himself in a colorful world. The developers have created a very nice color scheme in this update.
Such an amazing world will be interesting for every player to explore.
By the way, the sun has a different shape. Now it has the shape of a circle and has rays.
Colorful colors and a pleasant atmosphere are the distinctive features of this update for Minecraft PE.
This update is suitable not only for girls and anime fans. It is for everyone who is tired of the standard design.
How to install these textures?

Download and open it in Minecraft PE.

Can I use it on servers?

Yes, you are free to use it on public servers.

Can this texture pack be run in a multiplayer game?

Yes, for this it is enough just to be the owner of the card and install this modification on it.
download anchor
Download Kawaii Texture Pack for Minecraft PE