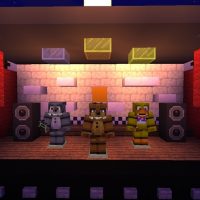 FNAF Texture Pack for Minecraft PE
Version MCPE: 0.14.0 - 1.20.31
Download
Download the FNAF Texture Pack for Minecraft PE: your world will become gloomier and more dismal.
FNAF MCPE Texture Pack Highlights
Five Nights at Freddy's is one of the most well-known and popular horror games released a long time ago.
It features frightening monsters known as animatronics and endless screamers, making FNAF so scary and creepy.
There is nothing like in Minecraft Bedrock Edition, but it's about to change because of numerous modifications, maps, and texture packs.
This sandbox survival will never be the same, and you should be aware of that. Textures are now more threatening and ominous, which affects mobs as well.
Creatures
Minecraft PE players have more things to care about, starting with disgusting-looking creepers that seem to camouflage with leaves and grass blocks.
It denotes it is more complicated to spot them henceforth. Besides, other mobs changed their textures.
On the other hand, some of the creatures have changed drastically. They resemble infamous animatronics following unwary adventurers and silently killing them.
Besides, you can dress up as the terrifying and rapid Foxy, fearful Golden Bear, and other dreadful monsters from Five Nights at Freddy's.
Blocks
Yet, these FNAF MCPE textures alter multiple vanilla blocks' appearance, turning them into a horrid pile of pixels.
Generally, they match the pizzeria surfaces with their unique black-and-white colors and dirty floors. Furthermore, there are various concrete-looking blocks now as well as bricks and multiple holiday-related tables.
It might seem to be an infinite happy birthday, but it is a nightmare in reality. Minecraft users would probably like to find a glimpse of joy and happiness but never will.
In general, Minecraft PE has turned into an actual horror game with its dreadful monsters and creepy dawns.
Will FNAF MCPE Texture Pack scary me?

Yes, it's a scary texture pack.

Can I use it on servers?

Yes, you are free to use it on public servers.

Have weapons chaged their textures?

No, only a few blocks and some mobs have been altered.
download anchor
Download FNAF Texture Pack for Minecraft PE