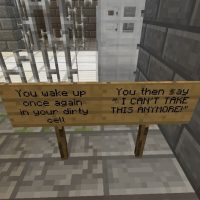 Jailbreak Map for Minecraft PE
Version MCPE: 0.14.0 - 1.20.31
Download
Download the Jailbreak mod for Minecraft PE: test your quick bit, acumen, and gumption trying to break through from a prison.
Jailbreak MCPE Map Highlights
Minecraft Bedrock Edition is a place of countless challenges, testing your creativity, resourcefulness, and fighting skills.
Many players joyfully embrace these tests and participate in order to find out what they are capable of. However, the majority of these trials have already been passed.
Thence users demand more challenge to be busy passing with. Fortunately, the MCPE community is full of talented users who are willing to produce such maps.
The jailbreak genre seems to be one of the most popular ones. Prisoners will be tasked to leave this horrible place and set themselves free.
However, the way to freedom is no easy task. That's why many players download and install these maps: they spend hours thinking up the escape plan.
Dungeon Escape
As it is evident from the headline, this MCPE location sets you on a quest to leave this horrid-looking place and find the long searched peace.
Nonetheless, barely anyone can leave this awful crept since monsters are lurking at any corner. Besides, there are numerous traps place around the dungeon.
Luckily, you can come across a few hints on your way, helping you deal with the puzzles. And there are a lot of these: perplexities will follow along your Minecraft journey.
Story
Furthermore, this jailbreak map even features a storyline. The plot is quite flexible but straightforward: you got drunk last night and turned out in this nasty place.
Obviously, your goal is to escape this place as soon as possible using all the handy things. As a matter of fact, one person is not hostile towards you and will assist you in your attempt to breakthrough.
Guru can be found in one of the cells of this intriguing Minecraft location.
Jungles
On the other hand, you can also leave the jungle temple. This Minecraft PE map sets you on a quest to escape this horrible place.
Generally, players will face new trials and challenges.
Is this Jailbreak MCPE Map large?

Can I replay this map?

Yes, you can even play it with your friends.

Is there a storyline?

Yes, you want to escape this place.
download anchor
Download Jailbreak Map for Minecraft PE