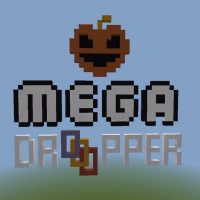 Dropper Map for Minecraft PE
Version MCPE: 0.16.0 - 1.19.83
Download
Download Dropper Map for Minecraft PE, and call your friends to jump from great heights with them!
Dropper Map for MCPE
Often Minecraft PE players download various challenge maps. Thus, they can diversify their game if they are bored with ordinary survival. Challenges can be easy or difficult. Dropper maps have long been known to many players for their interesting idea.
Here the user will have to jump from a great height and overcome various obstacles throughout the flight. In the end, he needs to land in the water or on a block that will soften the fall.
Mega dropper 4
This map is the continuation of the famous Mega Dropper in the Minecraft PE map series. The fourth version has 21 stunning levels. Each level has a unique style and is not like the other.
For example, in one of the tunnels, the player can find an Android, through which you need to go without touching the blocks. And the other level, in turn, consists entirely of emerald stars.
Mega dropper Halloween
In the Mega Dropper Halloween map for Minecraft PE, there is a small storyline. Here the player has to go through all the levels and collect the keys at the end. Using the keys, the user will be able to open the freezer door in which Dr. Finkel Fraken was locked.
Over time, it gets colder there, so the player will need to complete the levels faster. It's also worth noting that this Mega Dropper card is more challenging than the others. By the way, you need to collect six keys in total.
Mega Dropper 5
The fifth installment of the Mega Dropper maps series is the best in Minecraft PE. Here the user will find 22 levels with different levels of difficulty and patterns. After passing each level, the player will fall into the water.
Here he should find a button on the lamp and then press it. Thus, the cactus in the back will break and activate a mechanism that will place steps for the passage to the next level. Sometimes the steps may not activate. In this case, you will have to resort to cheats.
How to install a map for Minecraft PE?

In order to install the map, you need to move it to the address games/com.mojang/minecraftWorlds.

How are maps installed in a ZIP archive in Minecraft PE?

First of all, you need to unzip the file, then move it to games/com.mojang/minecraftWorlds/.

How are maps with the .mcworld extension installed in Minecraft PE?

After you download the file, run it. The map is automatically imported into the game.
Download Dropper Map for Minecraft PE