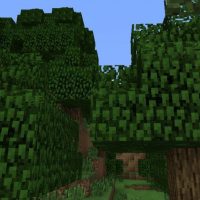 Waving Plants Shaders for Minecraft PE
Version MCPE: 1.12.0 - 1.19.63
Download
Download Waving Plants Shaders for Minecraft PE: create an amazingly beautiful world that will amaze with its realism.
What is new in Waving Plants Shaders?
In each update, the developers try to improve the cubic world, making it more like the real one. One important feature has been added to Waving Plants Shaders, which should give Minecraft PE incredible realism.
The leaves on the trees and the grass will move as if a light wind is blowing on them. This creates an incredible atmosphere of calm and tranquility.
Graphics
Every Minecraft PE user always tries to make their world special, unlike others. There are different ways to do this.
Build an unusual house or a large fortress. Create a vegetable garden or farm. Some players prefer not to sit still. Then they go on a journey through the boundless cubic world.
But in both cases, it is so important that the picture around is beautiful and realistic. To make it look like the real world. Waving Plants Shaders can help players with this.
Main Features
Thanks to the unique capabilities of Waving Plants Shaders add an insignificant but very important element to the Minecraft PE world on the one hand. After all, in the real world, it is impossible to imagine static trees, leaves, or grass.
From now on, all this will move as if from a breeze. Like waves, each leaf or blade of grass moves in time.
The effect of full presence is created, in such a place you want to stay longer. Maybe build something or just observe the world around.
It is great that the developers take into account the smallest details in order to make the time spent in the game as comfortable and enjoyable as possible. There is only one step left to see all this, just download the file and immerse yourself in the wonderful world.
Don't forget to turn on the Creative Mode to take advantage of all the possibilities!
What if the shader doesn't work?

Try to activate the experimental game mode.

Can I use it on servers?

Yes, you are free to use it on public servers.

How do I install this shader?

The file is in .mcpack extension, so just tap on the file to automatically install the modification.
Download Waving Plants for Minecraft PE