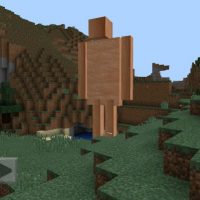 Titan Craft Mod for Minecraft PE
Version MCPE: 1.14.0 - 1.20.31
Download
Download Titan Craft Mod for Minecraft PE: Fight the dangerous giants, become the bearer of the legendary coordinates!
Titan Craft mod for MCPE
You should note that the addon is based on the popular anime "Attack on Titan" The player can choose to play two roles at once: to become a bearer of titanium or to become the one who tries to exterminate these creatures in Minecraft PE.
In addition to their impressive height, the characters have several distinctive abilities. Minecraft PE features both reasonable titans and ordinary titans. So modification offers you to become one of the bearers of the power of intelligent giants!
Original story
Behind the script, the anime's main characters lived inside colossal walls, as there is a massive threat outside the building – titans devouring people. On sunny days, the fortification of the walls was destroyed, and half the population was killed in a battle with monsters.
At Minecraft Bedrock Edition, the player will have to fight giants, identify their weaknesses, and learn spatial maneuvering skills. The critical thing to remember is that some titans are not stupid and have strong artificial intelligence.
The titans
In Minecraft PE, there are several variants of characters: intelligent and primitive. The brilliant titans are characterized by the fact that beneath the beast's shell lies the ordinary man who controls this massive construction.
The ability of titanium in the game is not so difficult. It is enough to drink a special serum. In addition, Steve can also acquire the power of a Titan progenitor.
In addition to it, there are a couple of other varieties: female, armored and colossal, titanium jaws, carrier, and hammer of war. Due to their size and skills, heroes are a severe threat at Minecraft PE.
The tactic to win
Use special UPM equipment and blades to destroy opponents.
In Minecraft PE, it is necessary to aim at the titan's neck, as this is their weakness.
How can I fight the titans?

Use special UPM equipment and blades to destroy opponents.

Is there the original story?

Where can I get the items to fight?

You may craft or find them.
download anchor
Download Titan Craft Mod for Minecraft PE