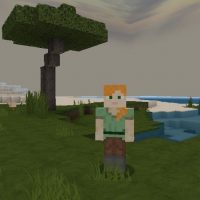 Flows HD Texture Pack for Minecraft PE
Version MCPE: 1.2.0 - 1.19.83
Download
Download Flows HD Texture Pack for Minecraft PE: transform the familiar world, fill it with brightness and a positive mood!
What is new in Flows HD Texture Pack?
The developers have tried to take into account all the wishes of the most demanding Minecraft PE users in the Flows HD Texture Pack.
As soon as the player gets into the game, changes become noticeable. First of all, it is pleasant lighting. The unique graphics create a bright and joyful image that will allow you to get a lot of pleasant impressions from the gameplay.
Graphics
Flows HD Texture Pack lets you forget about annoying pixels in Minecraft PE. Now all the objects in the game will look much neater. Sharp corners are smoothed out, and colors will become brighter and richer.
The creators paid special attention to lighting, it will become incredibly beautiful and realistic.
On the latest versions of the game, the changes become even more noticeable. The sky has become beautiful shades, the clouds on it really look very beautiful.
The color of the water in Minecraft PE has acquired a deep and rich blue color. The world looks completely unrecognizable.
Players should definitely visit the village. Previously unremarkable settlements began to look very beautiful and unusual.
By the way, if the hero has buildings in a modern style, their appearance will also change. They will get a more interesting appearance.
Interface
Flows HD Texture Pack changes not only the world of Minecraft PE. The interface of the game itself has also changed. The developers have created a unique appearance for the buttons and the entire menu.
Do not forget to turn on the Experimental Game mode to take advantage of all the possibilities!
Fantastic adventures await the hero in an amazingly beautiful world. Create your own story that will be remembered for a long time.
By the way, after installing the world, you need to wait a little for the Minecraft PE game to fully load.
What if the texture pack doesn't work?

Try to activate the experimental game mode.

Can I use it on servers?

Yes, you are free to use it on public servers.

How do I install this texture pack?

The file is in .mcpack extension, so just tap on the file to automatically install the modification.
Download Flows HD Texture Pack for Minecraft PE