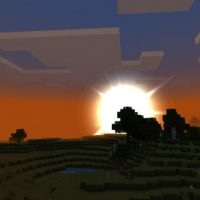 Better Vanilla Texture Pack for Minecraft PE
Version MCPE: 1.11.0 - 1.20.32
Download
Download Better Vanilla Texture Pack for Minecraft PE: update the appearance of the cubic world, making it even more interesting and beautiful.
What is interesting in Better Vanilla Texture Pack?
For all players who want to make changes to the appearance and textures of objects, but without changing them completely, the Better Vanilla Texture Pack is perfect. The developers have tried wherever possible to improve the colors or draw small details.
Literally, in all objects and objects, there are small updates. The world of Minecraft PE has been transformed and begun to look in a new way. It is noteworthy that such updates protect the familiar atmosphere of the cubic world, preserving its uniqueness.
Major changes
Better Vanilla Texture Pack differs in that not only textures have changed, but animation has also been added. For example, the fire in the furnaces now sparkles beautifully, which makes its appearance more realistic.
It is worth noting that the changes in Minecraft PE do not create the appearance of new blocks and objects, they only improve them and make them more interesting and diverse.
The developers have also updated the sun and moon. Now, these celestial objects look completely like in reality. Beautiful rays are visible during the day, and at night the stars sparkle in the sky.
Graphics
Better Vanilla Texture Pack improves the appearance of ore and grass blocks. Also, armor and weapons have received some changes. In general, the changes have surprisingly transformed the entire terrain of Minecraft PE.
The updated textures create a very pleasant and interesting atmosphere in the cubic world. Even though the dirt has received changes, it looks especially impressive on pigs.
Players can fully enjoy the gameplay, which will now become even more exciting and will definitely be remembered for a long time. It is enough to install this update and start exploring the updated world.
What if the Better Vanilla Texture Rack does not work?

Try to activate the experimental game mode.

Can I use it on servers?

Yes, you are free to use it on public servers.

How do I install this texture pack?

The file is in .mcpack extension, so just tap on the file to automatically install the modification.
Download Better Vanilla Texture Pack for Minecraft PE