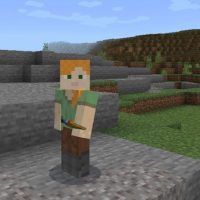 Thanos Mod for Minecraft PE
Version MCPE: 1.2.0 - 1.20.31
Download
Download Thanos Mod for Minecraft PE: become the most important villain in the universe, create your own world!
What is new in Thanos Mod for Minecraft PE?
A unique plot and a huge number of characters are distinctive features of Marvel films. The developers set out to move as many objects and characters of the famous Universe and into the world of Minecraft PE as possible.
Thanos Mod allows players to transform into the most powerful villain and even create the famous Infinity Gauntlet.
The main villain
In Thanos Mod, in addition to the main character – the famous Thanos and from the planet Titan, there are many more interesting possibilities.
Thanos received a thousand health units in this update, and his unique Infinity Glove will allow the player to use unique abilities. It will make him stronger, faster and, one might say, immortal.
Each player can become one of the Avengers during the game. Create your own story, and, of course, by all means, win. The choice is really amazing because the standard armor has been changed to superhero costumes:
iron is an Iron Man costume;
golden- Spider-Man costume;
Black Panther costume instead of chain mail;
the costume of Captain America will appear instead of Diamond Armor.
Gauntlet
The Thanos Gauntlet mod adds the most powerful artifact in the universe to the game. It is created from a golden glove, into which 6 infinity stones must be inserted.
They can be exchanged from merchants, and the last one will be kept by the wolf. Each of the stones gives a unique player a unique ability:
open portals;
get the ability to fly;
move objects in the air.
The player wearing this glove will be significantly stronger than other mobs. Will be able to inflict significant damage or even kill with a single blow.
Get the incredible power and capabilities of the most powerful character in the Universe!
How do I install this mod?

The file is in .mcaddon extension, so just tap on the file to automatically install the modification.

Can this mod be run in a multiplayer game?

Yes, for this it is enough just to be the owner of the card and install this modification on it.

What if the mod doesn't work?

Try to activate the experimental game mode.
download anchor
Download Thanos Mod for Minecraft PE