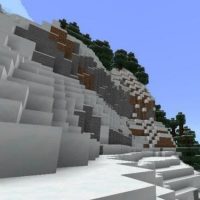 ESBE 3G Shaders for Minecraft PE
Version MCPE: 1.8.0 - 1.20.31
Download
Download ESBE 3G Shaders for Minecraft PE: make your world brighter, add colors and shadows, and much more!
ESBE 3G Shader for MCPE
There is a way to make the Minecraft PE world more realistic and vivid using special shaders. Choosing between them, players should try ESBE 3G shaders.
Features
This resource pack is simple, but it is considered one of the best. Shaders make your Minecraft PE graphics better, improving all the game components. This addition will make the design better even on weak devices.
The developer tried to make the package, which does not overload the game. So the players don't need a powerful device to see the changes.
Sky
Minecraft PE players will notice many changes in the game. Creating the world, you will see natural phenomena. For example, there will be beautiful dawns and sunsets.
The ESBE 3G changes the sky a lot. It looks more natural with these shaders.
Shadows and reflections
One more advantage of the resource pack is adding many tones. It depends on the brightness with variable saturation. Water will have a lot of new reflections, and the clouds will be more natural. There is the effect of wetness when it rains.
The ESBE 3G will add bright colors to the game. Players can notice a lot of changes related to water. By the way, after the rain, the ground will be wet.
Of course, Minecraft PE will not have a completely different design. It is still the cubic world, which everyone used to.
Beautiful lighting, shadows, and many other unique effects appear in the game world.
All these changes are possible thanks to the ESBE 3G shaders.
By the way, it will be more dangerous for Steve to walk at night because the game creatures will be less noticeable.
Additional effects
These shaders give the image a soft look, so your eyes will be less tired. The brightness of Minecraft PE will change, and it depends on the object you see. Even in a dark mine, the player can focus and see blocks around him.
There is one more effect of the ESBE 3G. Foliage and vegetation have their animation. You can notice the foliage moving when it is windy. Water has the same effect.
What if the shader doesn't work?

Try to activate the experimental game mode.

Can I use it on servers?

Yes, you are free to use it on public servers.

How do I install this shader?

The file is in .mcpack extension, so just tap on the file to automatically install the modification.
download anchor
Download ESBE 3G shader for Minecraft PE