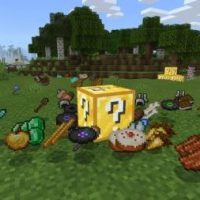 Lucky Block addons for Minecraft PE
Version MCPE: 0.16.0 - 1.20.31
Download
Download Lucky Block addon for Minecraft PE: try your luck!
Lucky Block addon for MCPE
Many players who survive in MCPE for a long time are familiar with wanting something new.
As no unexpected events occur in the game, interest fades over time. Lucky Blocks mods come to the rescue.
These are the kind of blocks that break down, and you can get anything: structures, things, hostile mobs, and even death.
Balls
A rather exciting modification that works on almost all versions of Minecraft PE. Magic balls replace eggs. If you throw them on the ground, you'll have big, evil pigs fighting amongst themselves.
After each such pig, magical balls and various objects fall out after the death of each such pig. Although these are not blocks, the very concept of lacquer blocks is implemented in this modification.
Looking for luck
It is a rather unusual addition that adds Lucky Blocks to Minecraft Pocket Edition. The whole point is that the player cannot create these blocks here. They are generated randomly worldwide at altitudes of 0 to 32 blocks.
But don't spend a lot of time looking, because the chance of an appearance is meager.
Unusual blocks
But this is not all the feature of this modification. It adds three new lacquers of the block to Minecraft Bedrock Edition.
Breaking the block with the image of the house can give a random generation, and from the lacquer of the block with the head of the cryptor – a random mob.
And finally, the orange one, where various objects fall out. The most important thing is that Lucky Blocks can be scrambled in survival mode.
Fortuna Blocks
The modeling on the lacquer blocks is different in their scale. The supplement brings Minecraft PE with three blocks of fortune and armor, three swords, ax, pickaxe, food, potion, and decor. You can create all these resources in a survival mode.
To make one regular lacquer, a block would require 4 bars of gold and a dispenser. You can then improve it to a diamond and astral variety.
What items can I get from Lucky Blocks?

You can get anything: structures, things, hostile mobs, and even death.

Are there addons for every version of MCPE?

These addons for all versions.

Where can I get these items?

You may craft or find them.
download anchor
Download Lucky Block mod for Minecraft PE