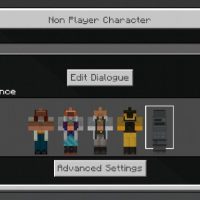 Origins Mod for Minecraft PE
Version MCPE: 1.16.0 - 1.20.15
Download
Download Origins Mod for Minecraft PE: completely change your hero, who will receive unique abilities.
What is interesting in Origins Mod?
Origins Mod allows players to completely change their character, giving them unique abilities and vulnerabilities. It does not just diversify the gameplay. The update will allow you to take a fresh look at the survival process.
Users need to make a choice immediately when loading the world into Minecraft PE. The authors have created a very interesting menu, which describes all the main nuances of the game for a particular hero. Get the ability to teleport or complete protection from creepers.
Variants
As mentioned earlier, at the time of loading the world in Origins Mod, players will be asked to choose from several variants of races, each of which has its unique features:
Human – standard gameplay;
Enderian – can teleport, is afraid of water;
Merling – move quickly, can breathe and break blocks underwater, and also have the underwater vision;
Phantom – takes damage during the day in Minecraft PE, can pass through blocks, the hunger scale is quickly depleted;
Elytrian – can fly freely in the air and does more damage at this moment, does not tolerate being in a confined space;
Blazeborn – resistance to fire and poisons, while taking damage from water and cold;
Avian – moves by sliding on the surface, can not eat meat;
Arachnid – can climb any wall, eats only animal food;
Shulk – has a special shell that will allow players not to wear armor;
Feline – do not take damage when falling and scare away creepers with just their appearance.
Main Features
This update is a truly unique opportunity to make the world of Minecraft PE surprisingly interesting. By giving their hero new features, users will be able to take a completely new look at the gameplay.
Just install the Origins Mod and start your journey right now.
How do I install this Origins mod?

The file is in .mcaddon extension, so just tap on the file to automatically install the modification.

Can this mod be run in a multiplayer game?

Yes, for this it is enough just to be the owner of the card and install this modification on it.

What if the mod does not work?

Try to activate the experimental game mode.
download anchor
Download Origins Mod for Minecraft PE