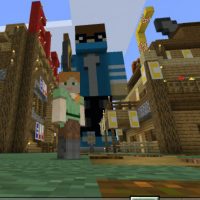 Stampys Lovely Map for Minecraft PE
Version MCPE: 1.4.0 - 1.20.32
Download
Download Stampys Lovely Map for Minecraft PE: change the cubic world completely and try something new.
What is interesting in Stampys Lovely Map?
Stampys Lovely Map is based on the creation of a famous YouTuber of the same name. The original idea was extremely popular at the time and thanks to this, various remakes are still appearing.
For those Minecraft PE players who want to try something, this update will definitely like it. A large number of different unusual buildings and a lot of hidden secrets are waiting for each hero.
Embark on an incredibly interesting adventure through the amazing world of one of the most famous YouTubers. Just download this update and you can go on a journey that everyone will definitely like.
Main Features
The first thing to note is that Stampys Lovely Map has really large dimensions. The heroes have a place to walk and something to see. Various buildings, including shops, restaurants, and other very unusual-looking buildings in the original style will be found throughout the area.
Minecraft PE users can find many interesting mini-games on the map. Secret items are hidden throughout the area. There is quite a large number on the map.
Graphics
The developers of Stampys Lovely Map really tried very hard to make the update interesting and its exploration exciting. By the way, if you go to the north, you can find a whole secret island on which the hero is waiting for a lot of interesting objects.
Minecraft PE has quite recognizable graphics and style. All of this is reflected in this map and a huge amount of work has been done. Every user can enjoy a unique opportunity.
For all players who want to add variety to the gameplay or just try something new, this update will definitely like. It has a large number of interesting objects that can be explored for a very long time.
How to download Stampys Lovely Map?

Tap the file and open it in Minecraft PE.

Can I use this Map with my friends?

Yes, the Map can be used for a multiplayer game.

Can i use the map in the survival mode?

Yes, the map is suitable for the survival mode.
download anchor
Download Stampys Lovely Map for Minecraft PE