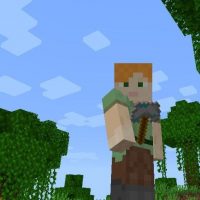 Thor Mod for Minecraft PE
Version MCPE: 1.2.0 - 1.20.31
Download
Download Thor Mod for Minecraft PE: become one of the main superheroes, the lord of lightning, and appreciate the power of the great Mjolnir!
What does Thor Mod add?
Transform into a fearless thunder god is now available for every Minecraft PE user. Thor Mod provides a unique opportunity to feel like one of the strongest and most powerful superheroes.
Players will also have access to the famous weapon – the hammer of Thor. It was with him that the god of thunder managed to defeat all enemies.
Avengers: Infinity War
The Thor mod adds the Thunder God himself to the game. It can be found in the Inventory. The legendary superhero will appear in his battle suit and with a sword in his hands.
By the way, to Thor, other legendary heroes are available in this modification for Minecraft PE:
Iron Man;
Captain America;
Black Panther;
Spider Man.
And many other characters from the Marvel universe. The original weapon fragments of each of the Avengers are also available. Shield of Captain America, Weapon of Black Widow, and even the most important artifact –the Infinity Gauntlet.
It is thanks to her that such opportunities as night vision, the ability to fly, and increased strength will be available to the player.
Superhero Costumes
This unique addition for Minecraft PE will allow players to try out the legendary weapon of the god of Thunder – his hammer. Thor Mod creates an atmosphere from the superhero Universe in the familiar cubic world.
Every user can now feel like one of the Avengers, you only need to download and install this update.
The developers did not stop at just one new type of weapon. The game also becomes available:
Green Arrow Bow;
Wolverine Blades;
Bomb from Batman.
With the help of valuable resources, heroes can also transform into heroes with the help of their costumes. There are several options available: Hulk, Deadpool, Captain America, and others.
How do I install this mod?

The file is in .mcaddon extension, so just tap on the file to automatically install the modification.

Can this mod be run in a multiplayer game?

Yes, for this it is enough just to be the owner of the card and install this modification on it.

What if the mod doesn't work?

Try to activate the experimental game mode.
download anchor
Download Thor Mod for Minecraft PE