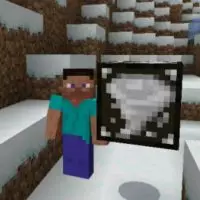 Tornado Mod for Minecraft PE
Version MCPE: 1.16.0 - 1.20.31
Download
Download Tornado Mod for Minecraft PE: create an incredible weather phenomenon that will destroy everything around.
What is new in Tornado Mod?
Many have heard about the destructive power of this weather phenomenon. A huge funnel is rushing at breakneck speed in the air, dragging objects inside and destroying everything in its path.
Together with Tornado Mod, Minecraft PE users have the opportunity to arrange this natural disaster in a cubic world. It will all start with the strongest rain, thunder, and lightning, and then there will be a powerful airflow that will destroy everything around.
Block
In order to make a real hurricane in the world of Minecraft PE, the user will need to craft a special block. This will require six ingots of iron, two coals, and a workbench. After everything is ready, the item will need to be installed on the Redstone.
Now an uncontrollable natural disaster will begin to destroy everything in its path. Tornado Mod developers warn that before starting a dangerous experiment, it is better to make copies of worlds so as not to lose mobs or buildings.
By the way, a number of visual and sound effects have also been added, the sound of a siren will alert the hero about the approaching elements.
Sticks
The developers of this update for Tornado Mod have added two new items to the Creative Mode Inventory. These are the so-called sticks, the first is capable of starting a natural disaster, and the second will move it.
In Minecraft PE, this update is supplemented with thunder sound effects and wind noise. Everything will start with very heavy rain, which will flood all the blocks around, from this they will gradually collapse.
Next, lightning will begin to sparkle, and subsequently, the player will see a funnel that can destroy everything in its path.
It is definitely recommended to turn on the Experimental Game mode to take advantage of all the possibilities.
How do I install this mod?

The file is in .mcaddon extension, so just tap on the file to automatically install the modification.

Can this mod be run in a multiplayer game?

Yes, for this it is enough just to be the owner of the card and install this modification on it.

What if the mod doesn't work?

Try to activate the experimental game mode.
download anchor
Download Tornado Mod for Minecraft PE