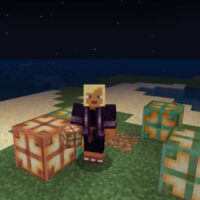 Concept 1.21 Update Mod for Minecraft PE
Version MCPE: 1.20.0 - 1.20.32
Download
Download Concept 1.21 Update Mod for Minecraft PE: learn about all the unique features of the new blocks that will be useful to every player.
Concept 1.21 Update Mod for Minecraft Bedrock Edition
Minecraft Live 2023 voting has ended, but the controversy around it has not subsided for several days. Some users disagree with the results, others claim that they were waiting for something more. In any case, the developers of Mojang Studios talked about the changes that have occurred in the game.
One of the truly global innovations is the appearance of a new location called Trial Chamber. Concept 1.21 Update Mod offers Minecraft PE players to be among the first to learn about all the features of the blocks that the heroes can find there.
New Blocks
As previously reported, the developers have opened the veil of secrecy. And now Minecraft Bedrock Edition players are looking forward to when they will be able to experience new blocks on their own.
Concept 1.21 Update Mod will allow you to learn about the important properties of the main objects in the game right now.
 Copper Bulb
The first block in the Concept 1.21 Update Mod, which attracted the attention of the entire gaming community, was Copper Bulb, and this is quite expected. The fact is that it can emit a fairly bright light. It illuminates the dark space of the Trial Chamber in Minecraft PE.
However, over time it will oxidize and the light will become less bright. An axe will help to correct the situation, which will need to be cleaned.
Chiseled Copper
Beautiful blocks with carved patterns, which will also be found in the new location in Minecraft PE, will also be oxidized.
You can clean them with an axe, and wax will help prevent this process. Players who have installed the Concept 1.21 Update Mod will have access to all stages of oxidation. To get blocks, use the /function new update command.
Chiseled Tuff
Another decorative block was introduced in Concept 1.21 Update Mod.
Minecraft PE players can recognize it by the geometric ornament on top and bottom.
How do I install this Concept 1.21 Update mod?

The file is in .mcaddon extension, so just tap on the file to automatically install the modification.

Can this mod be run in a multiplayer game?

Yes, for this it is enough just to be the owner of the map and install this modification on it.

What if the mod does not work?

Try to activate the experimental game mode.
Download Concept 1.21 Update Mod for Minecraft PE