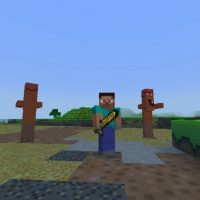 Terraria Mod for Minecraft PE
Version MCPE: 1.16.0 - 1.20.15
Download
Download Terraria Mod for Minecraft PE: fight with bosses, get rare weapons, explore dangerous biomes, and much more!
Terraria Mod for MCPE
Many Minecraft PE players love Terraria universe. A themed mod will allow players to get new items, tools, and weapons. You can meet dangerous bosses on the territory of the game and visit unique biomes.
Terraria Weapons
Players who tried other games have always dreamed that there would be as many weapons and armor in Minecraft PE. The Terraria Weapons mod will add 8 types of weapons.
This add-on offers players two mobs to trade weapons. They also can defend the base.
The creator of the modification gives players a choice of several types of weapons, including shurikens, throwing knives, true Excalibur, and others.
There is also an enchanted sword among the additional weapons. It is good to start the game. This one helps Steve during the first steps of survival.
Terraria
The modification will add weapons to Minecraft PE for battles. New items include a lot of swords, like a silver sword, gold sword, platinum sword, and others.
In addition, players can get explosives. It is in chests all over the world. Terraria mod developer has provided bombs and dynamite for powerful explosions.
The pickaxe will be another type of new weapon for Steve. There are a lot of varieties: cactus pickaxe, copper pickaxe, iron pickaxe, and others.
New bosses are waiting for MCPE players in the game. The huge Eye of Cthulhu will fly and attack from the air. Steve should also be careful with the Brain of Cthulhu, Skeletron, and the Royal Slime.
Biomes and mobs
Minecraft PE users can visit the Crimson Forest and the Crimson Desert. These locations are full of unusual Terraria mobs. There are zombies, demon eyes, monster faces, blood sliders, skeletons, and creepy giant worms.
How do I install this mod?

The file is in .mcaddon extension, so just tap on the file to automatically install the modification.

Can this mod be run in a multiplayer game?

Yes, for this it is enough just to be the owner of the card and install this modification on it.

What if the mod doesn't work?

Try to activate the experimental game mode.
download anchor
Download Terraria Mod for Minecraft PE