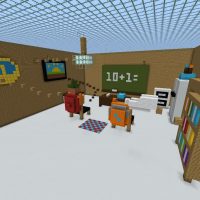 High School Map for Minecraft PE
Version MCPE: 1.16.0 - 1.20.31
Download
Download High School Map for Minecraft PE, and have fun with your friends while hiding at school!
High School Map for MCPE
When ordinary survival in Minecraft PE gets bored, players start downloading various maps and playing various mini-games. One of the famous mini-games is Hide and Seek.
As the name implies, the participants are required to hide from those who are looking and not to catch their eye. After a certain time, if the seekers cannot find all the hiding, they will lose. And if you manage to find everyone, then the hiding ones lose.
High School
This location is one of the best for hide and seek in Minecraft PE. After spawning, first of all, you need to move to a small room on the map. This room is easy to recognize as it resembles a hole in the wall. Here the player needs to get together with other participants.
After that, you need to click on the button on the dropper. It will give out either green or red wool. Players with green hair play the role of hiding, and those with red hair play the role of the seeker.
Beginning of the game
After all, in High School in Minecraft, PE has determined their roles, all that remains is to start the game. To do this, hiding player must press the appropriate button and get a leather jacket. After that, the seekers must press their button and move to a special room.
Here they can obtain Netherite Leggings, a Chestpiece, and a Netherite Sword. Then you need to take a netherite sword in your hand and press the button that gives the effects of Sharpness IV and Fire Aspect II. After 30 seconds, the game will start.
Game process
It is worth noting that there are many interesting places to hide on the High School map in Minecraft PE. Even with many players, everyone will be able to find a comfortable place for themselves.  It is worth agreeing in advance on how long it will take to find all the players since the author himself does not provide for this.
How to install a map for Minecraft PE?

In order to install the map, you need to move it to the address games/com.mojang/minecraftWorlds.

How are maps installed in a ZIP archive in Minecraft PE?

First of all, you need to unzip the file, then move it to games/com.mojang/minecraftWorlds/.

How are maps with the .mcworld extension installed in Minecraft PE?

After you download the file, run it. The map is automatically imported into the game.
download anchor
Download High School Map for Minecraft PE