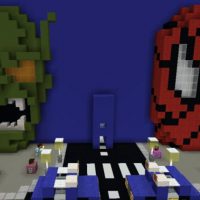 Spiderman Map for Minecraft PE
Version MCPE: 1.19.0 - 1.19.83
Download
Download Spiderman Map for Minecraft PE: invite your friends to recreate a cult scene from your favorite movie together and have great fun at the same time.
What is interesting in Spiderman Map?
As the name Spiderman Map implies, this update is based on a movie about the adventures of one of the most famous superheroes. Specifically, it recreates the scene in which the villain attacks the Festival of the Unity of the World.
That is why the location is decorated with various colorful banners. All kinds of buildings are located around the perimeter and objects are scattered everywhere. Minecraft PE players will have to immerse themselves in an exciting game of hide and seek and spend an unforgettable time with friends.
Main Features
After downloading Spiderman Map, each of the participants chooses their role and receives special items accordingly. For example, if he is a Seeker or as he is also called a Green Goblin. Then he goes to the Timer to give the rest of the Minecraft PE players time to hide.
Those participants who will be in the role of those who are hiding will have to take one bib, a pumpkin bomb, and also get a web at their disposal.
Rules
It is noteworthy that on Spiderman Map, as soon as one of the participants who were hiding is caught, he immediately joins the team of Seekers.
Exciting gameplay and unique territory will allow each Minecraft PE user to have fun with friends.
Details
The authors of Spiderman Map have hidden a variety of Easter eggs on the territory. Some of these are immediately visible, while others will be quite difficult to find. A clear distribution of roles between the participants and fairly simple rules. They make this update an absolute godsend for every player.
It is worth noting that the round will end only if all the hidden Minecraft PE players are found.
How to download Spiderman Map?

Tap the file and open it in Minecraft PE.

Can I use this map with my friends?

Yes, the map can be used for a multiplayer game.

Can i use the map in the survival mode?

Yes, the map is suitable for the survival mode.
Download Spiderman Map for Minecraft PE