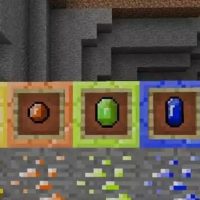 More Ores mod for Minecraft PE
Version MCPE: 0.14.0 - 1.20.31
Download
Download More Ores mod for Minecraft PE: Aluminum, chrysolite, or some tin – all of this will come into play if you install these addons.
More ores mod for MCPE
It depends on each modification, but you can find a typical set of new ores mainly in MCPE.
These ores are always asked to be added to the game due to the fact that the usual set is quite quickly annoying and wants something new. Although there are many more ores in the game at the moment, some of them are missing – for which you will need this modification!
You can create strong armor and tools that will protect your enemies from the ores. Of course, they could be used for something else.
Powerful crystals
This mod for Minecraft Bedrock Edison will add a variety of ores and armor, weapons, and tools. For example, the game now has orange-tinted citrine armor. It has a unique effect: fire resistance. Also, this armor is setting fire to the attackers.
Minecraft Bedrock Edition also features a set of aquamarine and amethyst. With your amethyst armor, you'll be stronger, and with aquamarine, you'll be able to jump above normal.
Chrysotile will give you the ability to mine any blocks faster. Also interesting is the sapphire armor, which is like lazurite: resistance to damage provides you with the proper protection.
More ores
Minecraft Pocket Edition with this addon will appear eight types of ore, most of which are not noticeable, but there are also rare minerals. Like nickel and lead. It is evident that from now on, users of Minecraft PE can create blocks of aluminum, tin, copper, and other elements and make weapons and nuggets.
The most exciting feature of fashion is that the user of MCPE can scratch, for example, a bronze or silver apple. Each ore has its apple, which, most importantly, positively affects MCPE. By eating a tin apple, the player has an absorption effect of 2:30 minutes.
Is there a Chrysolite in the addon?

What does aquamarine armor do?

Wearing it you can jump above normal.

Where can I get these ores?
download anchor
Download More Ores mod for Minecraft PE