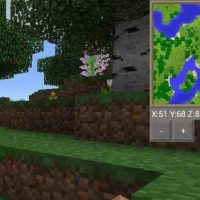 Map Mod for Minecraft PE
Version MCPE: 0.14.0 - 1.20.15
Download
Download Map Mod for Minecraft PE: now the hero will definitely not get lost in the endless cubic world.

What is interesting in Map Mod?
Map Mod is a unique feature that allows you to see everything that is around the player. A new image will appear in the upper left corner of the screen. It will display not only objects that are near the player but also blocks.
Moreover, being in the mine, the Minecraft PE user will know exactly what useful resources, such as gold, copper, or iron, are around.
Circle
As the name implies, this update for Map Mod will add a round image to the screen. On it, users will be able to see all the objects that are nearby. Now users can not be afraid to get lost in the boundless world or miss some important blocks.
Now it will be even easier and more convenient to navigate Minecraft PE. Each user will be able to go on a journey and find all the resources easily.
More features
This modification for Map Mod will provide players with much more options. It recognizes about a hundred variants of different ores. This is a great opportunity to simplify finding minerals in Minecraft PE.
In the image, the heroes will be able to see a brown dot, this is the current position of the user. Location information will be updated every second to display the data more accurately.
By the way, users will have the opportunity to change some settings.
Settings Panel
This update for Map Mod does not just add one item to the game, but completely changes the entire gameplay. First of all, the heroes can change about ten different settings to make the game process as comfortable as possible.
Minecraft PE users can adjust the display of minerals, and creatures, as well as change the size of the map itself. Thus, it is possible to change the gameplay in the smallest details so that the hero has no equal in the entire cubic world.
How do I install Map Mod?

The file is in .mcaddon extension, so just tap on the file to automatically install the modification.

Can this mod be run in a multiplayer game?

Yes, for this it is enough just to be the owner of the card and install this modification on it.

What if the mod doesn't work?

Try to activate the experimental game mode.
download anchor
Download Map Mod for Minecraft PE