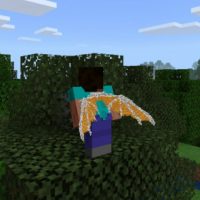 Elytra Texture Pack for Minecraft PE
Version MCPE: 1.4.0 - 1.19.83
Download
Download Elytra Texture Pack for Minecraft PE: enjoy flying with new wings of incredible shapes and sizes.
What is interesting in Elytra Texture Pack?
Usually, in Minecraft PE, users have access to one variant of the flying color – elitra. It looks pretty nondescript and just allows the hero to fly.
The authors of the Elytra Texture Pack have figured out how to add variety to the gameplay. In this update, users will find an incredible amount of new items.
Models
An incredible selection of different wings for the hero provides this update for the Elytra Texture Pack. Every user will be able to find a great option for themselves.
This is a great opportunity to surprise your friends and enjoy a new kind of flying vehicle. To set the desired type of elitra in the texture pack settings, the user will need to select one of the suggested options:
wings of butterflies, bees, and other insects;
wings of fabulous animals – pegasus, Edge dragon, a phantom;
X-wing, LED fighter – one of the most unusual wings;
made of dragon or demon bones;
and even the wings of the Bazlighter from the cartoon "Toy Story".
This is not a complete list of various devices that the hero can use. They look very cool and will definitely not leave any Minecraft PE user indifferent.
By the way, in addition to the wings themselves, the author added several variants of cloaks, and even the effect of the flight of the Scarlet Witch looks especially impressive.
Plus
In this update for the Elytra Texture Pack, there are ten kinds of new items for the Minecraft PE hero. They look very beautiful, they look like real wings.
The flight looks very realistic because the author also added motion animation. Therefore, users will definitely be delighted with such a wonderful opportunity.
To select a new type of elitra, just go to the tinctures before creating the world and drag the cursor to the desired name.
Blue Eye
This update includes a new kind of elitra, these are blue wings with a pattern in the form of large eyes. Incredibly beautiful and realistic.
The Minecraft PE user does not need to configure anything, just install this update and enjoy the new appearance of the hero.
With this update for the Elytra Texture Pack, the time spent in the game will definitely be remembered for a long time.
How to install these textures?

Download and open it in Minecraft PE.

Can I use it on servers?

Yes, you are free to use it on public servers.

Can this texture pack be run in a multiplayer game?

Yes, for this it is enough just to be the owner of the card and install this modification on it.
Download Elytra Texture Pack for Minecraft PE