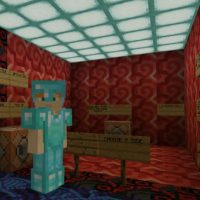 Prison Map for Minecraft PE
Version MCPE: 1.9.0 - 1.20.31
Download
Download Prison Map for Minecraft PE: try yourself as a prisoner and escape or become a guard and do not let the criminal escape.
Best Prison Map for MCPE
Hardly anyone in real life wants to be imprisoned, but at the same time, many people are very interested in how everything is arranged inside prison. A lot of movies and games are being created in which the main characters are trying their best to escape.
Now Minecraft PE users have the opportunity to try themselves in this difficult task.  Prison Map presents several test options, the purpose of which will invariably be to escape from detention.
Life
This update for Prison Map is a multiplayer Minecraft PE game that is recommended to be played by two to six players. The first thing that will need to be done is to split up. Some of the users will act as prisoners, and the rest will guard them.
Criminals should try to escape from prison by all means. One of the heroes can try to escape and, if successful, he can get to the base of criminals. There it will be possible to take weapons to help free the rest of the prisoners.
The guards, in turn, must prevent escape. They can decide when to let prisoners out for a walk or send them to lunch.
Escape
For all fans of puzzles and riddles, this modification for Prison Map is perfect. In it, the main goal of the players will be to find a way out of prison.
Each new room will be opened with a special button. But players should hurry up because the doors will close in 30 seconds. The hero of Minecraft PE will have to visit cells and canteens, as well as various secret rooms.
Prison X
The main goal of this challenge in Minecraft PE will also be to escape from prison. But it is possible to do this only by accumulating a lot of coins. The author of this update for Prison Map has tried to make this adventure as interesting and exciting as possible.
There is even a parkour test, after which users can earn good money and get closer to their cherished goal.
How to download Prison map?

Tap the file and open it in Minecraft PE.

Can I use this map with my friends?

Yes, the map can be used for a multiplayer game.

Can i use the map in the survival mode?

Yes, the map is suitable for the survival mode.
download anchor
Download Prison Map for Minecraft PE