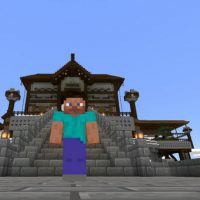 Kingdom Map for Minecraft PE
Version MCPE: 1.13.0 - 1.20.41
Download
Download Kingdom Map for Minecraft PE: exciting adventures await players in medieval castles, and there are many interesting buildings around.
What is new in Kingdom Map?
The authors of Kingdom Map offer to travel through time and get into the era of kings, castles, and incredible adventures. At these locations, you can feel like a real ruler or become a simple villager.
In any case, every Minecraft PE player will get a lot of impressions from visiting these territories. Be sure to visit all the buildings, including the mill, lighthouse, or chapel.
Kingdom
A large area with an impressive castle and a small town welcomes everyone who visits this addition for Kingdom Map. The author created it in the medieval style. Attentive attention to detail creates the atmosphere of a real-time journey.
Minecraft PE players should visit the throne room, which occupies most of the royal palace. It contains racks of armor and even a real throne of the king.
Snowcoal
This addition to Kingdom Map is a real find for all lovers of the Middle Ages. At this location, Minecraft PE players will find themselves in a full-scale kingdom, which has 4 villages at once and a large castle surrounded by impregnable walls.
Each of the settlements has unique interiors and occupations. For example, miners or farmers live in them. And underground, you can explore mysterious catacombs and entire sewer systems.
Lakewell
The incredibly beautiful settlement is a large castle standing on a high mountain, as well as the surrounding village. It has absolutely everything you might need for a comfortable stay.
The medieval style has many cozy houses: a camp, a market, a mill, and a chapel. Minecraft PE players will need a lot of time to explore this entire location. Also, the authors of Kingdom Map recreated a real lighthouse and a ship on the territory.
How to download Kingdom Map?

Tap the file and open it in Minecraft PE.

Can I use this map with my friends?

Yes, the map can be used for a multiplayer game.

Can i use the map in the survival mode?

Yes, the map is suitable for the survival mode.
Download Kingdom Map for Minecraft PE