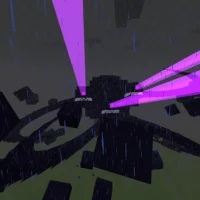 Wither Storm Mod for Minecraft PE
Version MCPE: 1.14.0 - 1.20.32
Download
Download Wither Storm Mod for Minecraft PE: Try fighting the most powerful boss in the history of the cubic world!
Wither Storm Mod for MCPE
Players who have long survived the vast expanse of Minecraft Pocket Edition know that many dangerous mobs in the game always want to deprive you of resources.
But by the time you've developed to a certain level and even defeated the Ender Dragon, you want to make some progress.
That's why developers are fashioning huge, scary bosses for the cubic world. One such example is the addon on Wither Storm, presented here.
Features
Many users from the Minecraft Bedrock Edition community have long asked for this modification. The developer worked very hard and finally released Wither Storm on the Cubic World.
As it stands, the battle with this incredibly giant mutant is going through six different stages, during which it will not be weaker – but on the contrary, more invulnerable and stronger.
You need to be well prepared and have plenty of resources to defeat this mutant proudly in MCPE.
First stage
It'll be easy enough for you to keep up with that giant monster in the first stage.
The Wither will run through cubic space and destroy and burn everything in its path. However, you won't have much trouble killing it in Minecraft PE.
It is worth noting that he can shoot with his heads, as well as his standard version, and attract various blocks to himself at this stage.
Second and fourth phases
At this stage, you need to hurry to stop the Wither just in time for his transformation.
If you don't do it in time, it will start gradually, in two stages, to form a huge black mass in Minecraft Pocket Edition.
In the final, fourth stage, this creature will grow into a monster with three heads and have a total of 999,999 healthy hearts.
The fifth and final stage
According to the author, you will have one last chance to finish off this vast mass at stage five in Minecraft Bedrock Edition. At this stage, the Wither will take in every single block around and fire the laser.
If you've reached the final stage, you have no chance of winning. There's going to be an incredible amount of thunder and a terrible amount of laser power that will kill you instantly.
How the last stage of the fight with Wither in MCPE?

The six stage is last in the addon.

What the most easy stage of the fight?

Where can I get items to fight with Wither in Minecraft PE?

You may craft or find them.
download anchor
Download Wither Storm Mod for Minecraft PE