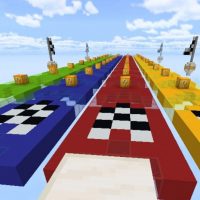 Lucky Block Map for Minecraft PE
Version MCPE: 1.2.0 - 1.20.31
Download
Download Lucky Blocks Map for Minecraft PE and try your luck!
Best Lucky Blocks Maps for MCPE
Exciting competitions with friends will wait for Minecraft PE players on the Lucky Blocks maps. Get to the finish line first, overcoming the track filled with various troubles.
Lucky Blocks Race
There are a lot of lucky blocks on the track – these are blocks that can hide anything inside. Steve can get something that will help him win the race, but also, the blocks can be a trap for players.
This mini-game for Minecraft PE is for 2, 3, or 4 players. They will run on small tracks consisting of block platforms. The race starts after the countdown of 10 seconds.
But there is one rule that all the participants must follow: the player who meets the lucky block must break it. But he must be careful: lucky blocks cause troubles, aggressive mobs, and other unexpected things.
By the way, Steve can break the tracks during the race.
Race with lucky blocks
The mod will be a good option for playing with friends for Minecraft PE. Up to three people can play here. The goal of the game is simple. Run around the map and break blocks of luck. Random events will occur.
By the way, monsters can appear on the territory of the Lucky block race map!
How to play?
Before the race, switch to creative mode and take lucky blocks from the inventory. They replace the spawn eggs of pigs in Minecraft PE. Arrange the blocks on the map. Then turn on survival mode.
New Lucky block Race
This map is a mini-game with lucky blocks. There are four tracks, so four players can use them.
During the race in Minecraft PE, each participant must break lucky blocks and get resources. These may be useful items, or they may be dangerous. For example, Steve can get a crowd of zombies that will attack. Everything depends on luck.
The more players compete in speed and luck, the more fun the map will become.
How to download Lucky Block map?

Tap the file and open it in Minecraft PE.

How many players can use the map?

What mode is better to use with the map?
download anchor
Download Lucky Block map for Minecraft PE