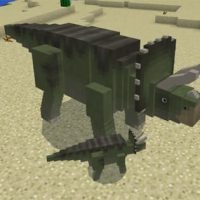 Jurassic Craft Mod for Minecraft PE
Version MCPE: 1.1.5 - 1.20.31
Download
Download Jurassic Craft Mod for Minecraft PE: Immerse yourself in the dangerous Jurassic world!
Jurassic Craft Mod for MCPE
Minecraft PE created many interesting and unique modifications, but Jurassic Park modification is one of the best based on the film. It is already a classic and one of the best in its genre.
So, after watching, you probably wanted to take a dip in this universe and experience all the peculiarities of being in the prehistoric era. That's why, thanks to the hard work of Addon developers, you have this opportunity!
Mod adds all the significant dinosaurs you could see in the film so that you can fully enjoy the diversity of Jurassic fauna!
Features
Jurassic Craft is a fantastic fashion for Minecraft Pocket Edition, adding to the cubic world as many as 17 different dinosaurs as you can find in almost any biome! Each species of dinosaurs has different properties. For example, some of them you can tame, others we recommend to avoid!
Many new creatures have been replaced by old ones you've known before. So when you walk through the cave by accident, you can quickly encounter some Carnotavre running right into you.
Better call your friends, because now you'll have something to study, but you'll need help meeting, for example, a giant T-Rex!
Dinosaurs
As mentioned above, the Minecraft Bedrock Edition has added many new prehistoric creatures that you can both fight and try to tame. We need to tell you a bit about the prominent reptiles you're going to meet on the vast expanse of biomes you're used to.
One of the dinosaurs is the famous Raptor, who was tamed in the film and defended the protagonist. Of the huge will be the formidable Carnotaurus, the predatory T-Rex, and even the enormous underwater Mozasaurus! All of them are tamed with meat.
Each dinosaur replaces some old mob and therefore takes some of its abilities. Now, the Raptor has seven colors as a substitute for a rabbit. And Carnosaurus will be as formidable and hostile as the champion he came in instead.
How can I tame a dinosaur in MCPE?

You can tame it using meat.

Is there the T-Rex in Minecraft PE?

Where can I get items to fight with dino?

You may craft or find them.
download anchor
Download Jurassic Craft mod for Minecraft PE