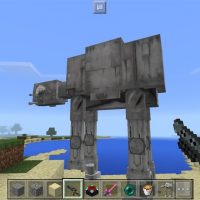 Star Wars Texture Pack for Minecraft PE
Version MCPE: 0.14.0 - 1.20.31
Download
Download the Star Wars Texture Pack for Minecraft PE: make your game more imperial or rebellious instead.
Star Wars MCPE Texture Pack Highlights
Star Wars is perhaps the most famous and popular franchise there has ever been. Almost anyone knows or at least once heard about the Galactic Empire and Luke Skywalker.
Stories and films about this tremendously rich universe have been told and watched many times, and the creators still keep going and do not even mean to stop.
And since Minecraft Bedrock Edition is the perfect place to interpret and recreate, many community members who happen to be Star Wars fans as well built up numerous marvelous constructions.
However, the most exciting way to witness Star Wars is to use texture packs and other additions, making this sandbox survival more galactic than ever.
Tatooine Textures
This MPCE texture pack is humble and merely ideal for witnessing timid sunsets on distant planets.
Besides, its authors claim they've managed to implement original vibes from the first Star Wars movies.
On the other hand, it is mainly beautiful in deserts and different sunny biomes since Tatooine is a scorched planet filled with sand and dust.
Sand storms are no rare here, and thence you should be cautious walking in these Minecraft lands. However, this Star Wars texture pack fits finely for all your building desires.
Mine Wars
This Minecraft PE texture pack is a little different. It seems it focuses on fighting components of the game. For instance, many weapons have been overhauled.
Although they have the same functionality, their appearance is entirely different and more space-related than ever.
Besides, some of the armor sets now resemble the Empire or the Rebellion. Hence you can pick a side in this endless conflict in Minecraft too.
Is Star Wars MCPE Texture Pack authentic?

Yes, these textures are right from the movies.

Can I use it on servers?

Yes, you are free to use it on public servers.

Have weapons chaged their textures?

Yes, it's the main focus of these textures.
download anchor
Download Star Wars Texture Pack for Minecraft PE