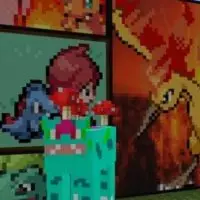 Pokemon Texture Pack for Minecraft PE
Version MCPE: 0.14.0 - 1.20.32
Download
Download Pokemon Texture Pack for Minecraft PE: appreciate the incredible changes in the cubic world that will make it more cute and cartoonish.
What is interesting in Pokemon Texture Pack?
For the first time, this name became known thanks to computer games, which quickly became popular all over the world. Currently, this is a whole universe that includes cartoons, comics, and even a feature film that appeared recently.
Cute creatures that live among people and have unique properties. They fight among themselves and can improve their skills.
Pokemon Texture Pack brings the original atmosphere to the world of Minecraft PE and now every user can become a part of the famous story.
New features
With the Pokemon Texture Pack, players can completely change the entire look of Minecraft PE. The chests will now look like pokeballs – that is, red on top and white on the bottom.
All the colors in the cubic world will become more cartoon-like and not as bright as usual. The developers have tried very hard to create an original atmosphere and changed the textures of blocks and objects.
Every player can combine two universes, and make them one, it is enough to download this update. New features and interesting gameplay are waiting in the game right now.
Unusual creatures
The original media franchise became popular largely thanks to the main characters. These are various fantastic creatures that have unique abilities and abilities.
At the same time, they can also improve their skills. There are negative characters, as well as those who are so kind and cute that the number of fans they have is growing every year.
Pokemon Texture Pack replaces the appearance of mobs with the appearance of Pokemon. For example, skeletons and creepers will no longer look so intimidating, but on the contrary, will become quite cute and funny.
But at the same time, do not relax, because all their functions in Minecraft PE have remained the same – that is, creepers will also explode, and skeletons will haunt the player.
Can this Pokemon Texture Pack be run in a multiplayer game?

Yes, for this it is enough just to be the owner of the card and install this modification on it.

How to install these textures?

Download and open it in Minecraft PE.

Can I use it on servers?

Yes, you are free to use it on public servers.
download anchor
Download Pokemon Texture Pack for Minecraft PE