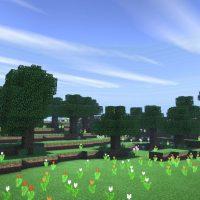 Unbelievable Shaders for Minecraft PE
Version MCPE: 1.2.0 - 1.20.32
Download
Download Unbelievable Shaders for Minecraft PE: appreciate an incredibly beautiful and realistic world that will sparkle with new colors.
What is interesting in Unbelievable Shaders?
In Unbelievable Shaders, the developers have tried to collect all the technical capabilities to make the world of Minecraft PE incredibly beautiful and memorable.
Literally every detail, even the smallest, has been worked out. The sky looks incredible during the day, but also at night when bright stars appear on it.
The appearance of the world changes almost completely. It is filled with new colors and incredible realism.
Graphics
Indeed, confirming its name, Unbelievable Shaders are different from anything that users could see before. Every detail in this update for Minecraft PE has been worked out with amazing quality.
As soon as the player enters the world, the changes become noticeable immediately. The sky looks amazingly realistic, thanks to the clouds that have received new graphics.
The sun shines brightly during the day, and at night it is replaced by bright stars and the Moon.
Water bodies have also received changes. Different shades of color, give the reservoirs incredible beauty and realism.
It creates a feeling of complete immersion in a new game space. Each user can create their own world in such a beautiful place.
Appearance
Any updates for Minecraft PE are particularly criticized by users. After all, it is so important that the gameplay works clearly and without failures. But at the same time, the visual component is considered important.
Unbelievable Shaders are distinguished by surprisingly precisely designed graphic elements. Literally every element: grass, trees, water, and the sky will get new colors and shades.
The cubic world will become incredibly beautiful thanks to this update!
What if the shader doesn't work?

Try to activate the experimental game mode.

Can I use it on servers?

Yes, you are free to use it on public servers.

How do I install this shader?

The file is in .mcpack extension, so just tap on the file to automatically install the modification.
Download Unbelievable Shader for Minecraft PE