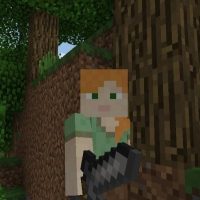 Short Swords Texture Pack for Minecraft PE
Version MCPE: 1.6.0 - 1.20.32
Download
Download the Short Swords Texture Pack for Minecraft PE: change various items in the game and get ready for new adventures!
Short Swords Texture Pack for Minecraft PE
The developers have changed the Short Swords texture pack to the appearance of one of the very important elements of the weapon.
This time in Minecraft PE, the changes affected swords. The creators changed their length, this made the usual items more convenient.
Main Features
It is no secret that all Minecraft PE players like various updates. That is why developers always try to make new changes to graphics, technical processes, or the appearance of elements.
All this creates unique and different gameplay in the game. In Short Swords, players can detect changes in Inventory.
As it is clear from the name of the texture pack, the appearance of one of the weapons has changed. The hero can choose one of 5 options.
This will allow you to create a new image and start exploring the boundless world. Incredible and exciting adventures will meet on the way of the player.
And, of course, you need to be ready for them. Weapons are an important element for defense and attack. And the outcome of the battle may depend on its technical characteristics, as well as on whether it will be convenient to use it.
Types of swords
The developers have prepared changes in 5 sword variants for Minecraft PE users. They have become shorter compared to the previous version.
It not only looks much better but also just brings a new look to this type of weapon. Users can choose any sword and complement the image of the hero with it:
wooden;
stone;
iron;
gold;
diamond.
Short Swords Texture Pack allows you to update the familiar look of the hero. It will add novelty and strangeness to the game.
Each player will be able to easily go through all the challenges that will come his way!
Can this texture pack be run in a multiplayer game?

Yes, for this it is enough just to be the owner of the card and install this modification on it.

Can I use it on servers?

Yes, you are free to use it on public servers.

Have weapons chaged their textures?

Yes, they have been altered.
download anchor
Download Short Swords Texture Pack for Minecraft PE