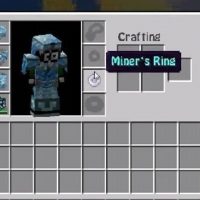 Baubles Mod for Minecraft PE
Version MCPE: 0.17.0 - 1.20.32
Download
Download Baubles Mod for Minecraft PE: Use unique rings and amulets to strengthen yourself against aggressive mobs of the cubic world!
Baubles Mod for MCPE
Those players who have long played Minecraft Pocket Edition know that the player has innumerable options easily used under challenging situations. But over time, that's not enough, because mos get more aggressive, and potions stay the same.
That's why fashion enthusiasts have created this beautiful modification, which will simplify the lives of many players. Now you can use the amulets and rings in addition to the potions.

Features
Baubles Addon for Minecraft Bedrock Edition adds amulets and ten rings that give unique enhancements. At the same time, you can only wear one ring with one charm.
To get the effect of the ring, you need to interact with a long click on the screen. Only one amulet can be attached to each ring. So choose wisely which combination you want to use in a given situation and why, so you don't screw it up in the future.
Potion rings
As stated by the Addon author, there is a special feature that allows the player to add a unique effect to the ring through a specific recipe for the craft in MCPE.
To add a ring effect, you need to combine it with one maximally pumped potion at your disposal. You have a famous potion for speed, increased jump, strength, regeneration, fire resistance, turtle power, and many others in Minecraft Pocket Edition.
Amulets
You will have several amulets. Some of them are worth mentioning separately. The magic amulet teleports the items you need to you. It only falls out after the death of the Traveler of the End.
One of the interesting ones is a natural amulet that speeds up movement on the grass.
Also, a chilly amulet slows down all the surrounding mobs. There are still many amulets in this modification, so get in the Minecraft PE.

What does the magic amulet in MCPE?

It teleports items you need.

What does the natural amulet in Minecraft PE?

It speeds up your movement on a grass.

Where can I get these items?

You may craft or find them.
download anchor
Download Baubles Mod for Minecraft PE