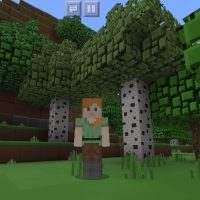 Plastic Texture Pack for Minecraft PE
Version MCPE: 1.2.0 - 1.20.31
Download
Download the Plastic Texture Pack for Minecraft PE: visit a changed world and start an exciting adventure!
What is new in Plastic Texture Pack?
Sometimes players want to change the familiar look of Minecraft PE, make it unusual and memorable. This time the Plastic Texture Pack comes to the rescue.
This update includes changes in the appearance of almost all the blocks in the game. They will become a bit like the scenery in cartoons. Sharp corners are smoothed out, and colors will become brighter.
Blocks
As soon as the hero gets into the game, the changes are evident. Plastic Texture Pack creates a very pleasant atmosphere in the familiar world of Minecraft PE.
The player seems to become a participant in a cartoon world in which there are no dangers and fears.
The appearance of many blocks has been changed, there are fewer details on them. This adds lightness and harmony to the surrounding world.
It is worth noting that all colors become more saturated and bright. This creates an indescribable atmosphere in the game world.
Graphics
It is worth going on a journey in Plastic Texture Pack to see all the changes, that will definitely not leave anyone indifferent. Incredible flowers and items that the user can find in the Inventory complement the world.
Changes appear everywhere: in the village, in the Lower World, and in the Forest Mountains. Improved graphics create a more refined and original world in Minecraft PE.
The developers have changed the game space, making it more fun. It is very nice to even just explore the world around you and notice new objects and objects every time.
Indeed, the graphics in the game are important. That is why it is so important that it is well developed.
Incredible adventures and exciting journeys await everyone who wants to visit this wonderful world!
Can this texture pack be run in a multiplayer game?

Yes, for this it is enough just to be the owner of the card and install this modification on it.

Can I use it on servers?

Yes, you are free to use it on public servers.

Have weapons chaged their textures?

Yes, they have been altered.
download anchor
Download Plastic Texture Pack for Minecraft PE