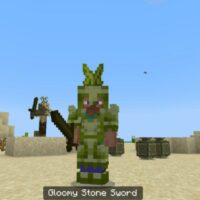 Gloomy Update Mod for Minecraft PE
Version MCPE: 1.17.0 - 1.20.32
Download
Download Gloomy Update Mod for Minecraft PE: completely change the surrounding space, and meet strange creatures on your way, with which the player will have to fight.
What is interesting in Gloomy Update Mod?
Exciting and very dangerous adventures have been prepared for Minecraft PE players by the authors of Gloomy Update Mod. The heroes will fight with very unusual opponents who will not allow you to just take possession of treasure chests.
Create a new adventure story right now!
 Gloom and Shroom
This time, Minecraft PE players will have to visit a rather dangerous place, which is a temple. Its appearance is very unusual. The building looks like a fly agaric it is also guarded by mushrooms and a boss.
In case of victory over him in the Gloomy Update Mod, the player immediately receives the Doom Shroom Gauntlets, which will allow him to shoot lasers from them. Keep in mind that various traps will be placed on the way, which can lead to death if the player touches them.
Also, beware of barrier blocks that cannot be broken. They will disappear only to have to defeat the boss. They were created so that players could not steal the chest until they had dealt with the main enemy.
Gloomy Update
The authors of this update Gloomy Update Mod have created a really interesting and unusual update that will completely change the whole world of Minecraft PE. 42 new structures will appear in it, which will occur both on the surface and underground.
On their territory, brave heroes will find unique structures, as well as secret treasures of great value. Mobs like Enderman, Skeleton, Creeper, or Husk will get a new look. It will make them more mysterious and gloomy.
It is worth noting that the heroes can also appreciate the unique sets of armor and weapons, which are also made in the theme of this update. Swampy yellow and green shades are used in its design.
How do I install this Gloomy Update mod?

The file is in .mcaddon extension, so just tap on the file to automatically install the modification.

Can this mod be run in a multiplayer game?

Yes, for this it is enough just to be the owner of the map and install this modification on it.

What if the mod does not work?

Try to activate the experimental game mode.
Download Gloomy Update Mod for Minecraft PE