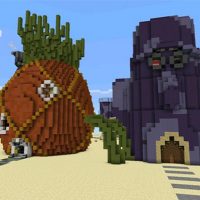 Bikini Bottom map for Minecraft PE
Version MCPE: 0.14.0 - 1.20.31
Download
Download Bikini Bottom map for Minecraft PE: visit the city from the famous cartoon "Sponge Bob: Square Pants".
Bikini Bottom Map for MCPE
Sponge Bob: Square Pants is one of the most popular cartoon series of the twenty-first century. Although it was released decades ago, stories about a restless sponge continue to attract considerable interest.
For example, even in Minecraft PE, you can visit the same city where the events of the entire series took place. At this point, you will find many exciting places, Easter and others.
Thus, this map for Minecraft PE will give you many unforgettable hours.
Bikini Bottom
The city where all the events in the original film take place in Bikini Bottom. That's where the pineapple is, where Sponge Bob lives. Moreover, users of Minecraft PE can visit the whole city from the favourite cartoon.
This is a huge town with various activities and exciting places. For example, you can find a police station here, a Krusty Krabs, and even a garbage bucket of plankton. And they're also decorated inside.
So you don't have to wait for hollow buildings. Moreover, given this fact, players can rely on chests full of different latitudes. Minecraft PE players can entirely survive here, which is a big plus for many.
Thus, a map from Sponge Bob: Square Pants is suitable for both research and survival.
Hide and Seek with the Sponge Bob
The minigame of hide-and-seek is very popular among the users of Minecraft PE. That is why there is even a location with Sponge Bob in this entertainment genre. Here you have a small area with the main characters of the animated series.
You have to find the most hidden places and hide there until the time allotted for the search passes.
The loser is the one found in a shorter time. Thus, the players created all the conditions for fun and joy.
Are all the characters on these maps?

Can I visit the Krusty Krabs in MCPE?

Is the entire city from the cartoon on these maps?
download anchor
Download Bikini Bottom map for Minecraft PE