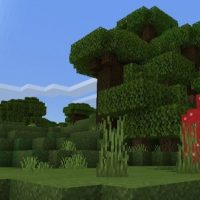 Modern HD Texture Pack for Minecraft PE
Version MCPE: 1.16.0 - 1.20.32
Download
Download Modern HD Texture Pack for Minecraft PE: build a house or create a whole city in a classic architectural style!
What is new in Modern HD Texture Pack?
The high resolution and incredible detail of the Modern HD Texture Pack allow Minecraft PE players to create a new amazing world.
This update will allow you to create unique masterpieces in the cubic world. Pixels will become less noticeable, which will give more realism to the surrounding details.
Graphics
Modern HD Texture Pack is created especially for those who want the Minecraft PE world to look more realistic.
Players can build entire cities or even megacities that will be different from everything that was in the game before. A beautiful and smooth picture, almost complete absence of pixels creates a great feeling from the gameplay.
The developers have done a lot of work with lighting. All the colors have become more saturated and are perfectly combined with each other.
It gives the impression of an absolutely real picture in the cubic world familiar to all users. You can evaluate all the changes right now, just install this update and the result will not take long.
It is impossible to break away from the game because the new design of the original things is really fascinating.
Details
As mentioned earlier, Modern HD Texture Pack changes the previous appearance of the objects surrounding the hero. By the way, if the user has previously installed mods on furniture, it will also look different.
This update is designed to be realistic, so it will really look like a real one. The developers have tried to change all the blocks in the game, including every brick or door.
The world of Minecraft PE will never look the same again. Incredible changes and a beautiful appearance for anyone who installs this wonderful update.
What if the texture pack doesn't work?

Try to activate the experimental game mode.

Can I use it on servers?

Yes, you are free to use it on public servers.

How do I install this texture pack?

The file is in .mcpack extension, so just tap on the file to automatically install the modification.
download anchor
Download Modern HD Texture Pack for Minecraft PE