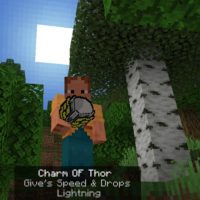 Charm Mod for Minecraft PE
Version MCPE: 1.19.40 - 1.20.32
Download
Download Charm Mod for Minecraft PE: use magical abilities that will make the player stronger, faster, and more resilient.
What is interesting in Charm Mod?
Magical abilities are impossible in the real world, but there are no limits and limits in Minecraft PE. That is why Charm Mod will be interesting to absolutely every user of the cubic world.
You can master secret techniques that will help you overcome all the challenges on the path of the heroes right now. Evaluate your magical abilities, use them against your enemies, and surprise your friends with new skills.
 Just Charm
Variety and unique features will please this update for Charm Mod players of the cubic world. First of all, you should look at the new options for dishes.
The cakes familiar to Minecraft PE have now received several types, each of which will endow the player who ate them with unique properties. Also, after drinking coffee, which by the way has never been available in the game before, you can get an acceleration effect for a few seconds.
In the Inventory of the Creative Mode, users will also discover new glowing blocks created from sea corals. The set also has blocks of gunpowder, sugar, and others.
Holy Charm
The authors of this update for Charm Mod offer players to discover the world of magic. Among the items they will find in the Inventory, provided that the Creative Mode is enabled, there will be magic items.
They look like circles with various patterns applied to them. For the convenience of Minecraft PE users, when the hero holds any of them, its name and action are displayed on the screen. For example, you can get a regeneration effect, increase the speed of movement, or jump. Hold Crystal Charm for 30 seconds and get 4 additional health points.
Another interesting feature of this update is the effects that impose poisoning or set enemies on fire during their use.
How do I install this Charm mod?

The file is in .mcaddon extension, so just tap on the file to automatically install the modification.

Can this mod be run in a multiplayer game?

Yes, for this it is enough just to be the owner of the map and install this modification on it.

What if the mod does not work?

Try to activate the experimental game mode.
download anchor
Download Charm Mod for Minecraft PE