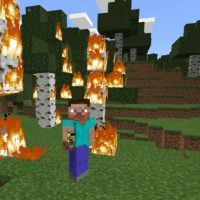 Power Mod for Minecraft PE
Version MCPE: 1.16.0 - 1.20.31
Download
Download Power Mod for Minecraft PE: get incredible abilities and use them to become invincible among all the inhabitants of cubic space.
What is interesting in Power Mod?
In the real world, obtaining unique abilities is fantastic and only the heroes of comics or superhero movies can boast of it. They save the world, move in space, and can change their height.
There are no restrictions in the world of Minecraft PE, so the authors of Power Mod offer players the to evaluate the possibilities of incredible power. Players will be able to teleport, increase or decrease, and will also receive weapons capable of crushing any opponent.
Superpowers
To take advantage of the new abilities, players need to start with crafting a gem, and after that start creating all the other items. Of course, all of them can be easily found in the Inventory of the Creative Mode.
Power Mod adds the following items to Minecraft PE:
lightning – sets fire to the area around, accompanied by characteristic sounds;
teleport – moves the hero 200 blocks ahead;
speed – allows users to run incredibly fast;
decrease/increase – changes the size of the player;
flight – the hero will receive wings that will allow him to

move through the air

;
invisible – the player will not be seen by others.
But even this is not a complete list of all the features, so rather download the update and use them all. For example, a single-hit wand is capable of destroying any mob.
Opportunities
This Power Mod add-on provides players with truly limitless opportunities to explore the world, and will also allow them to become invincible. Now the process of survival and creativity will become even more interesting.
Fantastic adventures in Minecraft PE are waiting for everyone who installs this update. Hurry up, because it is better to start right now!
How do I install this Power Mod?

The file is in .mcaddon extension, so just tap on the file to automatically install the modification.

Can this mod be run in a multiplayer game?

Yes, for this it is enough just to be the owner of the card and install this modification on it.

What if the mod doesn't work?

Try to activate the experimental game mode.
download anchor
Download Power Mod for Minecraft PE