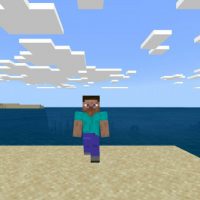 Roblox Mod for Minecraft PE
Version MCPE: 1.14.0 - 1.20.32
Download
Download Roblox Mod for Minecraft PE: explore the surrounding space, use the new jumping animation, and much more.
What is interesting in the Roblox Mod?
This update for Minecraft PE is based on the popular multiplayer gaming platform. Its main idea is to create your maps. Players go through various obstacles and challenges.
Roblox Mod will add a new movement animation for the player to the cubic world. They will become smoother and more realistic.
Animation
It is no secret that in Minecraft PE the player's movements seem ragged and chaotic. Roblox Mod will change this situation and give them smoother and more realistic mechanics.
Swimming and running will match the style of the game of the same name. It's worth just watching the movement of the hero from the side to notice all the changes that have occurred.
Jumping
Thanks to Roblox Mod, the player's jumps in Minecraft PE will become higher and he will be able to easily overcome large obstacles.
This skill will be very useful in survival mode, where an aggressive monster can attack Steve at any second. Now, to get to the most inaccessible points of the map, you will need to make a minimum effort.
Opportunities
Now exploring the surrounding space in Minecraft PE will be even more interesting. Firstly, the running animation will change, and the hero's movements will become smooth.
In addition, the player will be able to move faster underwater, where speed is very important. Also, if Steve needs to get to the shelter quickly, he will be able to do it in a matter of minutes, despite the obstacles that may appear on his way.
Roblox Mod is a godsend for everyone and players and a great opportunity to add something new to the standard gameplay. Start new adventures right now using the new movement mechanics and appreciate its convenience.
How do I install this Roblox Mod?

The file is in .mcaddon extension, so just tap on the file to automatically install the modification.

Can this mod be run in a multiplayer game?

Yes, for this it is enough just to be the owner of the card and install this modification on it.

What if the mod does not work?

Try to activate the experimental game mode.
download anchor
Download Roblox Mod for Minecraft PE