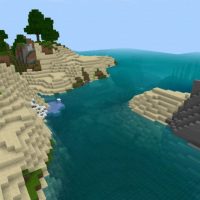 Vibrant Shaders for Minecraft PE
Version MCPE: 1.16.0 - 1.19.83
Download
Download Vibrant Shaders for Minecraft PE: add some changes to the ordinary game world, see the game in a new way!
Vibrant Shader for MCPE
Many players love Minecraft PE graphics and are used to it. It has its characteristics, but this is how it is known, and the game fans continue to use it in its original form.
But what if you want to improve the standard lighting, relying on vanilla textures? The Vibrant shaders will help players.
Main Features
The Vibrant shaders will only partially change the visual part of Minecraft PE while leaving the old base. Some blocks will look different: the water will become more transparent and clean.
It is also worth paying attention to the foliage on the trees: it will also change.
This package will remind players of the usual vanilla textures, but if you look closely, you can notice changes. By the way, some Minecraft PE users call such resource packs shaderless shaders. It means they add many details to the world, like any shader, but they do not have shader code.
The Vibrant pack works on any platform. It makes it universal and accessible to all players.
Other details
If players go on a journey through the caves of the Minecraft PE game world, they will see what changes the spiders have received thanks to Vibrant shaders. Now, visually their movements look more realistic. Insects climb the walls, creating the effect of naturalness.
Water will become more transparent and get additional beautiful shades. Now you can watch underwater life from the shore and see everything that happens at depth. Grass and foliage on the trees will also become brighter and more voluminous.
By the way, putting on the armor, you can notice additional highlights on it.
Clouds will not still consist of blocks and will not be very realistic, but they will look more fluffy. It adds lightness and volume to the visual part of Minecraft PE.
What if the shader doesn't work?

Try to activate the experimental game mode.

Can I use it on servers?

Yes, you are free to use it on public servers.

How do I install this shader?

The file is in .mcpack extension, so just tap on the file to automatically install the modification.
Download Vibrant shader for Minecraft PE