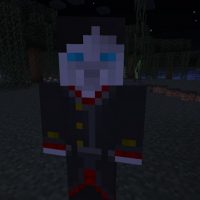 Vampire Mod for Minecraft PE
Version MCPE: 0.14.0 - 1.20.32
Download
Download the Vampire mod for Minecraft PE: you can become a serial bloodsucker and the terrible menace of this world.
Vampire MCPE Mod Highlights
Vampires are perhaps the most famous undead creatures of all, thanks to their creepy and dreadful aesthetics.
These monsters from shut-closed coffins have spread terror and fear across different civilizations worldwide. Nearly all cultures have some kind of a vampire.
However, Minecraft Bedrock Edition has a bit different type of undead monstrosity. Zombies and walking skeletons are the replacement for vampires.
Notwithstanding the above said, it is no more. Numerous MCPE addons and maps introduce these charismatic bloodsuckers to this peaceful sandbox survival.
Hence you might expect the gameplay to become more intricate and complex since you do have to care about extra things henceforth.
Vampires won't leave you alone in either Overworld or the Nether. Generally, Minecraft has become a perfect place for lamias to inhabit and for users to be always wary.
Vampires & Werewolves
This massive Minecraft PE addon presents various undead and frightening monsters. They are not friendly at all and will try to devour your soul in no time.
Thence you should be more ready for the arrival of the dead. Craft yourself a stake, and you'll immediately feel safer than seconds ago.
This marvelous hallow piece of wood is made of a stick and an iron ingot. Minecraft users have to be cautious since it does not work on werewolves.
As a matter of fact, if you slay one bloodsucker, it'll probably drop a tooth you can use to compose a Vampire Dagger once combined with a stick.
Its damage is more serious, and thence it will more useful for you in your infinite fight with the creatures of the night.
New Mobs
Besides, the Minecraft PE mod features more bloodsuckers.
These mobs continuously constitute a danger and should be treated with no mercy whatsoever. Yet, you must know vampires in Minecraft attack other mobs as well.
Users are not the only victims of these cruel monstrosities.
How do I get new weapons in Vampire MCPE Mod?

How do I find a Dracula?

This rare mobs appears at night seldom.

Are there brand-new items?

Yet, and most of them are weapons.
download anchor
Download Vampire Mod for Minecraft PE