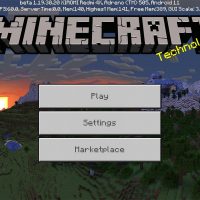 Minecraft PE 1.19.30.20
Download Minecraft PE 1.19
Download
Download Minecraft Bedrock 1.19.30.20 with a working Xbox Live: explore the Ancient City and discover all its secrets, and also beware of the terrible monster Warden.
What is new in Minecraft 1.19.30.20?
Minecraft PE 1.19.30.20 users will be able to enjoy more stable gameplay. The developers tried to fix the problems that led to the inability to fully use all the features.
At the same time, they reported that the failure due to which the players turned pink after being on the server for a long time cannot be completely ruled out yet. At the same time, work on its correction continues to be carried out.
Warden
Since the first appearance of Warden in the game, it has attracted the attention of many users. The appearance and incredible capabilities make this mob virtually invincible among all creatures in Minecraft 1.19.30.20.
This time, the authors continue to expand the abilities of the monsters. Thus, it can pass through various liquids and even through lava. In addition, it can detect a player who is sneaking.
Allay
Another mob, which also recently appeared for the first time in the open spaces of the cubic world, is designed to become a great friend and assistant to players in the process of survival. Allay can collect various items and pass them to the owner.
In Minecraft PE 1.19.30.20, his abilities have also been expanded. Now he does not get stuck in incomplete blocks, and can also collect armor of various densities.
This allows him to be incredibly useful, besides, the little mob has received a new animation. If there is music playing next to him, he will dance.
Deep Dark
At the moment, there are many biomes in the cubic world, each of which has unique territories and locations. In Deep Dark, in addition to meeting Warden, players can find an Ancient city.
This area in Minecraft 1.19.30.20 is interesting for its ancient buildings, inside which you can find various treasures and useful items.
What is the danger of meeting Warden in MCPE 1.19.30.20?

This monster can destroy the enemy with two blows.

How does Warden find its victims in Minecraft 1.19.30.20?

By vibration and sound, as well as by smell.

How is Allay useful?

He collects items and gives them to the owner.
Download Minecraft PE 1.19.30.20