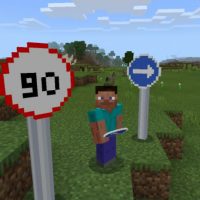 Road Mod for Minecraft PE
Version MCPE: 1.16.0 - 1.20.32
Download
Download Road Mod for Minecraft PE: build your own highways and go on a journey with them or arrange a cool race with friends.
What is interesting in Road Mod?
It is impossible to imagine a modern city without cars and other means of transportation. Of course, users can ride on grass or sand. But it is much more comfortable to drive on smooth asphalt.
It is for those players who have decided to arrange a cool race or build their own city, a Road Mod has been developed. Now Minecraft PE users will have everything they need: from the roadway itself to markings and signs.
Users can go beyond their desires and create something that will really amaze everyone around them.
Better
Thanks to this update for the Road Mod, players will be able to choose from four asphalt options, depending on the surrounding area and destination. In addition, users can make the slope of the roadway, which is available in 16 different variations.
It is worth noting that for even more realism, the developers have added the ability to make the markup. And also install curbs and fences on the edges of the road.
If the path will run through the village, it will be more organic to use paving stones. Thus, Minecraft PE players will be able to create their own routes or build a real city.
Road signs
When it comes to movement and speed, we must not forget about the rules that are regulated by various signs. This addition for Road Mod provides a wide range of all kinds of items, without which it is impossible to imagine a modern city.
Minecraft PE again surprises players by the fact that no matter what ideas they have, there is always a ready-made and very convenient solution. It is enough to install the update and start creating your own city, highway, or village.
In any case, users will find everything they need to achieve their goals.
How do I install this Road Mod?

The file is in .mcaddon extension, so just tap on the file to automatically install the modification.

Can this mod be run in a multiplayer game?

Yes, for this it is enough just to be the owner of the card and install this modification on it.

What if the mod doesn't work?

Try to activate the experimental game mode.
Download Road Mod for Minecraft PE