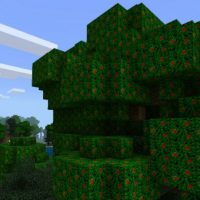 Tree Mod for Minecraft PE
Version MCPE: 1.16.0 - 1.20.31
Download
Download Tree Mod for Minecraft PE: thanks to new plants, get unique items and features.
What is interesting in Tree Mod?
The real world is impossible to imagine without plants, they can be found everywhere. And in the hot desert and in the cold taiga. Naturally, in the cubic world, players constantly see a lot of grass, flowers, and shrubs around them, which make the atmosphere in the game more realistic and understandable for users.
Thanks to Tree Mod, players will not only be able to admire the updated look of these green giants, but also receive useful items from them. The world of Minecraft PE will become even more interesting and memorable.
Dynamic
This update for Tree Mod adds changes to the appearance of oaks, birches, and palms. Now they will not only look taller and more realistic but also get improved animation in Minecraft PE.
Also, when extracting wood, the player will be able to observe the object falling completely down, exactly as it happens in reality. It is better to step aside during this process so as not to get damaged.
Another important fact is that players will be able to get coconuts from palms, three pieces from each. If users make juice from these nuts, they can replenish one hundred percent of their health at a time.
More
For those who have long dreamed of gardening and getting their harvest, the developers have prepared this update for Tree Mod. With it, the hero will be able to grow apples, pears, and lemons.
In addition to the fact that the plants look great and every detail is drawn very clearly, Minecraft PE players will be able to get new effects after they eat the fruits from the new wood.
From apples – health regeneration, night vision from pears, and from lemons – resistance to fire damage. And if users combine all of the above fruits with a flask and fire powder, the hero will be able to get an energy drink. It gives all the effects at the same time, but for a longer time.
How do I install this Tree Mod?

The file is in .mcaddon extension, so just tap on the file to automatically install the modification.

Can this mod be run in a multiplayer game?

Yes, for this it is enough just to be the owner of the card and install this modification on it.

What if the mod does not work?

Try to activate the experimental game mode.
download anchor
Download Tree Mod for Minecraft PE