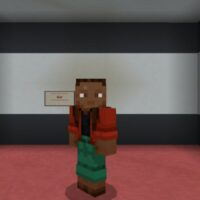 Banban Map for Minecraft PE
Version MCPE: 1.20.0 - 1.20.32
Download
Download Banban Map for Minecraft PE: Visit a mysterious and terrible place where terrible things happen and unprecedented monsters live.
What is interesting in Banban Map?
Banban Map is based on a horror-style computer game. It is currently gaining popularity all over the world, so the developers decided to move its events to the world of Minecraft PE.
Thus, the player turns out to be the main character of dangerous events and will look for an opportunity to survive and escape from a mysterious place where the most incredible creatures are rumored to live.
Main Features
For the convenience of passing the Banban Map by players, the author has created all kinds of hints. They appear as a pop-up text and remain on the screen until the participant does what they say.
By the way, Minecraft PE heroes will have to carefully inspect the area around, them because various signs and inscriptions are installed everywhere. But, of course, caution in this place should be mandatory, because the creepy creatures living in this seemingly peaceful place will attack extremely unexpectedly.
Plot
It is worth noting that the main events in the game of the same name take place in a kindergarten, where the atmosphere only at first glance seems peaceful. There are many dangerous creatures in Banban Map, with which the heroes will have to fight.
The main task of the participants will be to find a way out of this room. Each of the rooms in which the Minecraft PE user appears is closed and it will be necessary to find some kind of key or lever to move on.
Main room
The first location in which Minecraft PE players find themselves on the Banban Map is a large and well-lit room. There are many doors around the perimeter, but they are all closed.
You will have to work hard to find the secret key and continue the test. But this is just the beginning.
How to download Banban Map?

Tap the file and open it in Minecraft PE.

Can I use this map with my friends?

Yes, the map can be used for a multiplayer game.

Can i use the map in the survival mode?

Yes, the map is suitable for the survival mode.
Download Banban Map for Minecraft PE