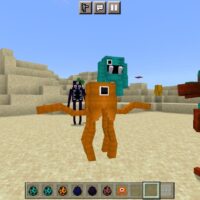 Banban Mod for Minecraft PE
Version MCPE: 1.19.0 - 1.20.32
Download
Download Banban Mod for Minecraft PE: Learn about the features of the characters new to the cubic world who got into it from the popular horror-style game.
What is interesting in Banban Mod?
The authors of these updates offer Minecraft PE players to tickle their nerves and test their strength. Banban Mod is based on one of the most popular horror games at the moment.
The heroes will have a hard time because creepy creatures have different unique abilities that participants will need to learn. Additional items can help in the process of survival, and players will also have the opportunity to transform into characters of a dangerous game.
 Banban
The characters that will appear in Minecraft PE after installing this update are collected from all three parts of a creepy game called Garten of Banban. It will not be so easy to defeat them, because each of them has a large amount of health.
Some can even be destroyed with a single blow. In Banban Mod, characters have additional abilities that make them extremely dangerous – for example, they can climb walls.
Garten of Banban
The most complete and diverse selection of features, as well as creatures, is presented in this Banban Mod update. Minecraft PE players will have the opportunity to meet face-to-face with famous characters, as well as fight with them.
It is worth noting that some of them are very dangerous, so it is better to put on armor and take a powerful weapon in advance.
Characters
This is another addition to the horror adventure theme. Minecraft PE players still need to survive in a world populated by dangerous creatures. But the main feature of this Banban Mod add-on is that the player can transform himself into these creatures.
After the player takes the form of one of the two creatures, he will also receive their abilities to fight against enemies.
How do I install this Banban mod?

The file is in .mcaddon extension, so just tap on the file to automatically install the modification.

Can this mod be run in a multiplayer game?

Yes, for this it is enough just to be the owner of the map and install this modification on it.

What if the mod does not work?

Try to activate the experimental game mode.
Download Banban Mod for Minecraft PE