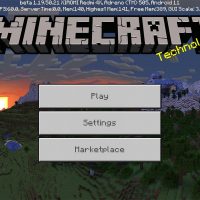 Minecraft PE 1.19.50.21
Download Minecraft PE 1.20
Download
Download Minecraft PE 1.19.50.21 with a working Xbox Live: use the new bookshelves to create a secret passage or embark on a journey through the water on a bamboo raft.
What is new in Minecraft 1.19.50.21?
To the great joy of all fans of the cubic world, the developers of Mojang Studios have released a fantastic update. In it, players will have a new vehicle and this new mob can be extremely useful in the process of survival.
The possibilities of using bamboo are also expanding. Now you can create any buildings from this wood, as well as create a real raft to go on a journey through the water.
By the way, the authors offer players in Minecraft PE 1.19.50.21 the to create hanging plaques as a new element of decoration for buildings, as well as unique bookshelves with a secret.
New items
Immediately 3 new items appeared in this update and players have many options for using them.
First of all, it is worth noting the new signs that can be hung outside buildings in Minecraft 1.19.50.21. Write any text on them and make the dwelling unique.
By the way, players can use bamboo wood to create building blocks or build a real raft. It will be possible to go on a trip on the water and it is more spacious than an ordinary boat.
To store books, heroes can now use bookshelves, this is very convenient and will help to always have the right edition at hand.
Camel
Unique creatures that are famous for their endurance have now appeared in Minecraft PE 1.19.50.21. They can be ridden by two players at the same time.  They live in desert biomes and their favorite food is cacti.
Also, the camels are quite tall, so the monsters will not be able to attack the heroes sitting on them. But it is worth noting that these animals move much slower than horses.
But at the same time, the undoubted advantage is that now riding on these mobs, players will be able to jump over obstacles.
How can players use the improved bookshelves in Minecraft PE 1.19.50.21?

Place books on them or make a secret passage.

Which signs can be used in MCPE 1.19.50.21?

What animal other than a horse can players ride?
Download Minecraft PE 1.19.50.21