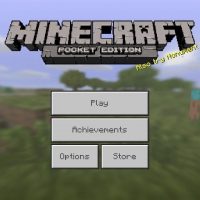 Minecraft PE 1.0.5
Download Minecraft PE 1.0.5
Download
Download Minecraft 1.0.5 for free on Android: use command blocks, meet updated mobs and create new items!
What is new in Minecraft PE 1.0.5?
Minecraft 1.0.5 update pleased fans of the game with the appearance of command blocks. In addition, players can visit the winter biome and the End, meeting unseen creatures along the way.
Command blocks
Minecraft PE 1.0.5 players can easily get a command block, but first, they need to turn on the creative game mode.
Next, you need to use the command /give @p command_block. After that, Steve gets the block. You can use the command block only in the creative.
After the player has received the command block, he must install it on the ground or in another convenient place. The player needs to click on the block, and in the menu that opens, enter the desired command.
By the way, there is a minecart with a command block in this update.
Mobs
While in the snowy biomes of Minecraft 1.0.5, Steve can meet a polar bear. After killing an animal, the player gets a fish.
In the End city, users may stumble upon shulkers. These mobs guard the biomes of the End from uninvited guests. The creature consists of two parts forming a shell. In color, these mobs are similar to purple blocks.
By the way, shulkers can teleport in the game world.
There is one more inhabitant in the Ender World – a Dragon. After killing it, players get its egg.
Biomes
The End dimension consists of End stones and looks like several islands. To get into this dimension, Minecraft PE 1.0.5 players must use a special portal.
Unlike the portal to the Nether, this portal moves the player very quickly.
Traveling around the game world, users can also see the Winter biome. It is possible to see an igloo in this area. The building is a structure made of blocks of snow. Inside there is a stove, a bed, a workbench.
There is a carpet on the floor, under which there are secret descents.
How to get a Dragon's egg?

After killing it, players get its egg.

What material is an igloo made of?

It is made of snow blocks.

How to get a command block?

Players can do it using the command /give @p command_block.
Minecraft PE 1.0.5 Download