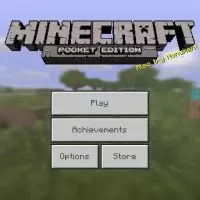 Minecraft PE 1.0.9
Download Minecraft PE 1.0.9
Download
Download Minecraft 1.0.9 for free on Android: try new skins, meet Ender Dragon and make a lingering potion!
What is new in Minecraft PE 1.0.9?
The Ender Update differs from others in its scale. The game developers offer players not only new blocks this time. But also powerful bosses and various structures. All this makes the Minecraft 1.0.9 world unique and diverse.
Skins
The Mojang team has developed a set of skins based on Greek mythology. Such a resource pack used to be available only on game consoles, and now Minecraft PE 1.0.9 users can use it!
Mush-Up Pack is a thematic set of resources that completely changes the gameplay. Among the characters, players will see different ancient Greek gods.
The developers have added interesting user content, an updated interface, 39 skins, and the original soundtrack to the set.
End dimension
The developers continued to improve the End dimension. The game authors givers use a chance to visit unique structures and meet dangerous mobs.
For example, Minecraft 1.0.9 users can visit End City. This structure consists of several towers. There are the shulkers who live in this area. These aggressive creatures shoot shells with the effect of levitation.
By the way, in the End City, you can look for chests that may contain valuable loot.
On this territory, you can also see a rare structure – the End ship. The player should carefully inspect the building, because there may be elytra there. With this item, Steve can fly.
Ender Dragon
This scary boss inhabits the End dimension. Minecraft PE 1.0.9 players are better off wearing armor before meeting a Dragon. The creature can do a lot of damage to Steve because it can shoot fireballs. If the user manages to kill the dragon, then he gets the boss egg.
Dragon's Breath can help to create lingering potions.
How to use Dragon's breath?

Players can use it to create lingering potions.

Where I can find chests with valuable loot?

It is worth to looking for chests in End City.

What is the theme of Mush-Up Pack?

Mush-Up Pack is a thematic set with ancient Greek gods.
Minecraft PE 1.0.9 Download